SURGICARE OF WICHITA
Free Standing Surgery Center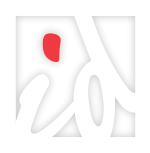 In 1974, Surgicare of Wichita, formerly The Surgery Center of Wichita, opened as the second freestanding outpatient surgery center in America. After 39 years of practice at its original location, the surgery center outgrew its space and tasked Inner Design Studio with creating a fresh and timeless interior design for its new 26,500-square-foot location.
In the main lobby, designers used a soothing canyon color theme of rust red, sage green and warm tan against dark cherry and maple moldings and furniture to emphasize the floor-to-ceiling windows and abundance of natural light. The flooring contrasts dark cherry wood and tan carpet tiles to create smaller seating areas and a high traffic pattern that naturally leads guests to the reception desk.
Off the main lobby, the children's play area received a cheerful, sunflower design inspired by the Kansas state flower. Working with sunflower-themed color palette of brown, golden yellow and kelly green, designers tied the space together with a custom wallcovering of children holding sunflowers and flower-patterned upholstered chairs.
To minimize the play area's 32-foot ceiling, designers hung a custom, triple drum shade lighting fixture, installed acoustic wall panels that were cut out to form a sunflower, and used kelly green carpet tiles to mimic the look of grass.
"We Understand the Healthcare Environment."
Our collective approach ensures the delivery of durable environments with thoughtful design.
Start the Conversation >