MURFREESBORO MEDICAL CENTER
Medical Office Facility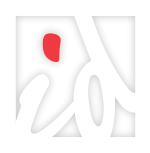 The Murfreesboro Medical Clinic is a freestanding, three-story facility that consists of a diagnostic center, a surgery center with four operating rooms, a physical therapy suite and a 20,000-square-foot medical clinic.
As a design/build project, the interior design was driven by the contractor's specified costs and was efficiently completed in a single phase, rather than the four phases typical for a project of this size.
The design guidelines specified a contemporary space that emphasizes the clinic's state-of-the-art technology and presents an inviting impression to guests of the newly relocated facility. As a well-established clinic, it was also important to honor the clinic's longstanding history throughout the community.
The lobby's sleek, modern lines, created with contrasting design materials, lead guests into the welcoming space. The open, two-story lobby is outlined with cherry and maple wood panels and French doors and features stained concrete flooring and an exposed staircase with customized wrought iron railing. To blend the old with the new, designers incorporated historic photos of the community throughout the lobby and entire facility.
Surgery waiting rooms and nurse stations continue the contemporary design theme with cherry wood chairs upholstered in light yellow and brown leaf pattern fabric, light yellow walls and French doors. Additionally, the multi-level physical therapy suite features modern floor-to-ceiling windows that flood the rooms in natural light.
"We Understand the Healthcare Environment."
Our collective approach ensures the delivery of durable environments with thoughtful design.
Start the Conversation >